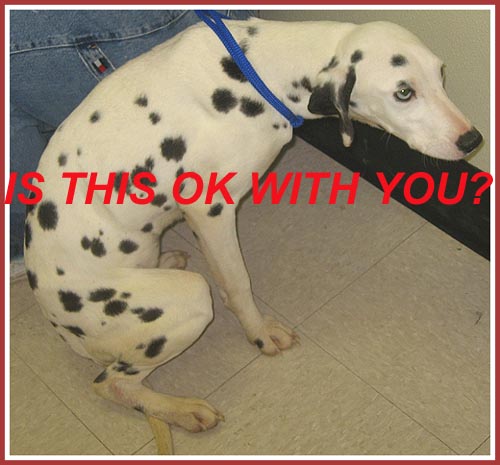 This frightened little Dalmatian awaits her fate in a shelter after her rescue from a Dexter, WI, "breeder." She is one of 75 dogs who were kept, several to a kennel, in a 20' x 20' room in a barn. Her feet and tail are permanently stained from the urine and excrement she was forced to live in.
BUT THAT'S OK, the breeder told reporters; "I went into it more to give me a livelihood...I'm not ashamed of nothing I've done." (8 Mar 08: Wisconsin Rapids Tribune)
IS THAT OK WITH YOU?
IT'S NOTOK WITH US!
Auction and pet store protests, mill busts, and other events have kept the fight against puppy mills in the media spotlight -- and Concerned citizens are starting to take action. We cannot keep up with all the breaking news, so we are creating this page just for posting links to keep you current on all that is happening.
---
---
© Copyright, 2008. The Wisconsin Puppy MIll Project
P.O. Box 926 * Sheboygan, WI 53082-0926 * info@NoWisconsinPuppyMills.com

Website design by Hook & Web Designs