"It has been my experience that the most successful efforts are led by local individuals with personal knowledge of the legislators and facts on the ground... You are the best friends to animals."
~ Sharon Adams, Ex. Director, VA Beach SPCA

How to Contact Your Elected Officials

Talking Points

---
How To Contact your Wisconsin STATE Elected Officials: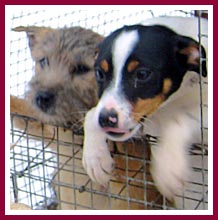 In Wisconsin, you can easily find your area's representatives and their contact information by going to: http://legis.wisconsin.gov and clicking on the "Who Represnts Me?" link.

Be sure to write or phone the Governor, as well as your legislators. Our Governor can be reached at:

Historically, the MOST effective way to contact legislators has been by a formal "snail mail" letter. Please see What To Say and Sample Message, below, if you are uncertain as to how to write a letter that officials will pay attention to.

The second most effective method of contact is a phone call. Your message can be as simple as just: "I am calling to ask that you please support AB-250/SB-208, the Commercial Dog Breeders Licensure Bill."

If you do not feel comfortable writing a letter or calling you can e-mail but please be aware that this is generally considered the least effective and most "informal" way of communicating with politicians (though, with the anthrax scares, many legislators on the federal level now prefer email). Follow the same rules for an email as you would for a printed letter.
---
Top
---
Talking Points:
The following Talking Points are revised from a 2003 memo Memo sent to all WI legislators from Martha Hess, former Aide to Rep. Jeff Wood. We thank Ms Hess for allowing us to excerpt this memo.
What is a Puppy Mill?

A "puppy mill" is a facility that continuously breeds female dogs and then houses the females and their puppies in deplorable conditions. Inadequate food, water, sanitation, year-round exposure to the elements and dilapidated housing are commonplace.

Many people have the mistaken belief that commercial pet breeding facilities are regulated and inspected by the USDA. There are actually two types of puppy mills. Those who sell wholesale to brokers, pet stores, etc. must be licensed by the USDA (for more info on USDA licensing and the mimimal standards required, please see our USDA Regulations page.) However, the vast majority sell directly to the public through classified ads, at swap meets, over the internet, etc., and are subject to NO regulation whatsoever, not even the minimal protection offered by the USDA.

Many puppies sold from any of these mills, USDA licensed or not, suffer from chronic physical ailments and may be fearful of people and other animals. The animals are sold on farms or are transported in bulk caging [trucked] to pet stores across the country.

The breeders are raising "livestock" but selling their product as pets. The dogs are kept in cages with wire floors. They never get any exercise. Medical attention is non-existent. Water is minimal, probably frozen in wintertime. Food is scarce and usually moldy.

Once the dogs no longer reproduce for the miller, their lives are terminated. Some are rescued where they undergo extensive rehabilitation for aggressive and frightened behavior. Rescued dogs usually have only one or two rotten teeth left due to poor nutrition and lack of anything to chew on to keep their mouths healthy.

These inhumane and abusive conditions have been the subjects of television reports and newspaper articles nationwide. Resports show that breeders who are put out of business in states that enforce pet facility laws quickly move to other states where laws are inadequate or non-existent. We believe that is why we have seen such a sharp increase in new puppy mills here in Wisconsin.

We need legislation that would correct problems and esure that animals will receive proper care before it reaches a criminal level. It is a common misconception that DATCP oversees the humane treatment of animals and shares reponsibilities with local authorities. In reality, DATCP currently has NO authority, other than to serve as a resource to the local authorities. Moreover, given the lack of guidelines within Chapter 951: Crimes Against Animals, an animal must be almost dead before it is considered a crime." (See Existing Laws for more details.) AB-250/SB-208, the Commercial Dog Breeders Licensure Bill, would meet this need!

We need legislation that provides the manpower to investigate, inspect and fine those who do not stay in compliance. DATCP receives hundreds of calls each year complaining of puppy mills and other breeders of pet and exotic animals, the heartbreaking conditions pets come from, and the health of these pets -- but currently has no authority to act on those complaints. The public wants something done about the problem. AB-250/SB-208, the Commercial Dog Breeders Licensure Bill, would meet this need!

We need legislation that provides rule making authority to set standards for pet facilities including proper shelter, ventilation, proper flooring, areas large enough for breeding and nutrition. People spend a lot of money on pets and they should be able to purchase an animal that has been properly cared for. No one wants to purchase a puppy or other pet and have it end up sick, aggressive or die at an unexpectedly young age. AB-250/SB-208, the Commercial Dog Breeders Licensure Bill, would meet this need!

An effective Pet Facilities Law could be self-funded through licensing fees fees and from the income taxes derived from the sale of pets. In a three-year poll conducted by the Wisconsin Puppy Mill Project, 89% of those who sold pets through classified ads did not charge sales tax. Many of these puppy mills operate under the radar screen of state taxes, both personal income and state sales tax. Pets are a taxable item in Wisconsin. People who sell pets directly to the public through classified ads, the Internet, at roadside stands and flea markets are neither reporting their income or collecting and submitting sales tax to the State Department of Revenue. AB-250/SB-208, the Commercial Dog Breeders Licensure Bill, would meet this need!
---
Top
---
What To Say:
I Thank supporters of pet facilities legislation for their WISDOM in taking up the matter once again/ I respectifully request that my legislators support AB-250/SB-208, the Commercial Dog Breeders Licensure Bill.

I support a self-funded pet breeding / selling standards law. I believe that licensing fees can and will cover the cost of the program and staff needed to manage it. These breeders are making money. A small portion of their income should be used for licensing. Every other business must buy licenses.

I believe people who sell more than 25 dogs per year should be licensed and inspected.

This type of legislation will go a long way to protecting consumers, too. These measures are long overdue.

I believe that not only will AB-250/SB-208, the Commercial Dog Breeders Licensure Bill, NOT use any funds from the state budget, but its enforcement may actually ADD to state tax revenues by forcing businesses to accurately report their income and charge state tax on their "products." Everyone dealing in pets should pay a fair share of taxes.

For too long Wisconsin has been the recipient of 'bad actors' from other states that have passed similar legislation. These people come to Wisconsin and set up shop because they know that we don't have the laws necessary to enforce even minimum standards. It has already been proven that many of them don't pay sales tax or correctly report income tax. That hurts all of us.

AB-250/SB-208 is NOT an animal rights group bill. AB-250/SB-208 is about a variety of things including consumer protection, leveling the playing field for responsible small business owners, and yes, humane treatment of companion animals.

WIsconsin's animal husbandry practices used to be the benchmark for all others to follow. Please help our state become a leader again by supporting AB-250/SB-208, the Commercial Dog Breeders Licensure Bill

Ask your representatives to take a look at this website and give them our URL, www.NoWisconsinPuppyMills.com, for information on Wisconsin's rapidly growing puppy mill industry. The website also features links to recent media coverage on the abuse, neglect and suffering going on right now in Wisconsin's unregulated "puppies for profit" businesses.

Add a personal experience of your own to let your representatives know why you feel so strongly about this issue.

Try to keep your message to one page. Legislators are very busy, and seldom take the time to turn the page.

Be sure to give your name, address, and phone number. A anonymous letter won't even make it to your legislator's desk, and he / she probably won't pay much attention to it if your address isn't included.
---
Top
---
Sample Message Format:
Below is a sample message format to give you a starting point for your own sentiments regarding the need for regulation of the pet industry. Feel free to put any of the Talking Points or What To Say items above into your own words as a starting point for your own sentiments and experiences. Remember, PLEASE always be respectful and courteous! Name-calling, and rude or abusive letters will hurt, rather than help, our cause.
The Honorable (legislator's name)
His/her address
City, State, Zip
Dear Sen/Rep Name:
I am writing to ask you please to support AB-250/SB-208, the Smith-Kreitlow Commercial Dog Breeders Licensure Bill.
[In one or two short paragraphs, state why you feel it is important to license, inspect and set standards of care for Wisconsin's dog industry. It is important that you tell them this in your own words!]
Thank your representative for his support.
Sincerely,
Your Name
Your Address
Please note: You MUST include your name and address. Your legislator won't pay much attention to what you have to say if this information isn't included--if your letter even reaches his / her desk.
PLEASE always be respectful and courteous!
---
Top
---

Action!

Bumperstickers/Flyers

Media

Donate

Round Table Discussions

---
© Copyright, 2008. The Wisconsin Puppy MIll Project
P.O. Box 926 * Sheboygan, WI 53082-0926 * info@NoWisconsinPuppyMills.com

Snow Pups Photos Copyright © 2008, Wisconsin Puppy MIll Project. All Rights Reserved. Used with permission.
Little Tag 19 photo Copyright © JB's Legacy. All Rights Reserved. Used with permission.
Website design by Hook & Web Designs