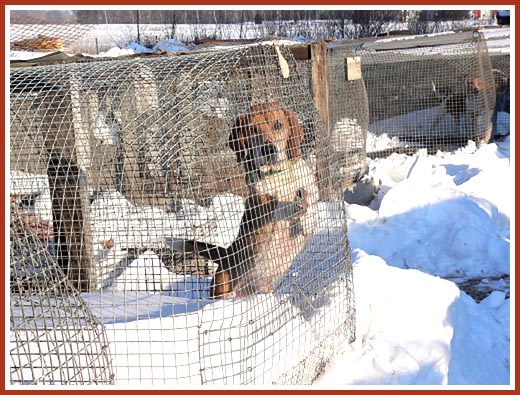 Our dream is to see the expansion of Act 90 minimum standards of care to ALL dogs in Wisconsin -- not just those in the care of licensed dog sellers. We consider it disgraceful that current humane laws allow some pet and hunting dogs to live in deplorable conditions that fall far short of those mandated by Act 90 for dogs in commercial breeding establishments!
In 2009, the Wisconsin State Legislature unanimously passed Act 90, a law regulating dog breeders and sellers in our state. Throughout 2010, WPMP was part of the Dog Sellers Advisory Committee which helped the Wisconsin Department of Agriculture, Trade, and Consumer Protection formulate fair, enforceable Administrative rules. Since Act 90 (now s.173.41, Wis. Stats.) went into effect in June 2011, MANY breeders and sellers have been regulated and have either given up the business OR have come into compliance under ACT 90. The legislation has made a HUGE difference in the lives of thousands of dogs in Wisconsin.
But -- sadly, there are still abuses; there are still dogs (and other animals) in Wisconsin needing our help. Some commerical breeders have found or created "loopholes" to evade regulation; some have even gone "underground". Some licensed breeders may only "spruce up" when an inspector is expected. And our recent participation in the campaign against the use of dogs to track and hunt wolves has heightened our awareness of the deplorable conditions under which many so-called "hounders" keep, breed, transport, and hunt their dogs.
Despite our excellent Act 90 Dog Seller Program, the Animal Legal Defense Fund ranked Wisconsin in the bottom tier (#44) for overall animal protection laws in 2015. (ALDF 2015 U.S. Animal Protection Laws Rankings (pdf))Wisconsin's existing "Chapter 951: Crimes Against Animals" as it applies to pets and hunting dogs is vague and open to interpretation, making enforcement difficult, if not impossible — frustrating citizens and law enforcement investigators alike. (Read Chapter 951 for yourself.)
With your help, Wisconsin Puppy Mill Project will be there to continue the fight for solid, enforceable animal protection regulation. Currently, among other issues, we are campaigning for regulation of exotic species as pets, safer public lands for people and animals, protection of wild species, and promoting humane standards for the use of hunting hounds.
The links in this section examine existing laws and any new legislation that is in the works. The "ARCHIVES" section lists some past efforts and our positions on them.
"Never doubt that a small group of thoughtful, committed citizens can change the world. Indeed, it is the only thing that ever has."
— Margaret Mead
"The only way to defeat a strong united front is to become one yourself!"
Barbara J. Davis
---
---
© Copyright, 2008. The Wisconsin Puppy MIll Project
P.O. Box 926 * Sheboygan, WI 53082-0926 * info@NoWisconsinPuppyMills.com

Website design by Hook & Web Designs