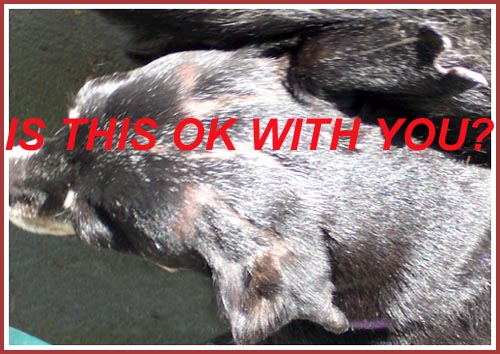 This dachshund was formerly known only as "Tag 19." See the notch in her ear in the upper right hand corner of the photo? That's where a heavy metal cattle tag was punched through; she had one in each ear, as well as a rusty metal chain around her neck with another tag with her number on it. With all of this ID "jewelry," it's anybody's guess why her "breeder" also felt the need to brand the top of her head with a searing hot metal iron (those pink V-shaped lines). Tag 19 lived in the mill for 10 years until she was "worn out" and discarded.
BUT THAT'S OK, the breeder tells us. His "breeding facility" was licensed by the USDA.
IS THAT OK WITH YOU?
IT'S NOT OK WITH US!
"Why does Wisconsin need any new legislation? We already have humane laws, and the USDA regulates breeding facilities."
If a mill dog were "retired" to rescue for every time we've heard that, Wisconsin's puppy mills would be out of business!
Wisconsin's "Chapter 951: Crimes Against Animals," is vague and open to interpretation, making enforcement difficult, if not impossible — frustrating citizens and law enforcement investigators alike. (Read Chapter 951 for yourself.)
While it is true that the USDA does regulate some pet breeding facilities through the provisions of the Animal Welfare Act, USDA officials are also frustrated in enforcement because:
ONLY those breeders selling animals WHOLESALE (to brokers, pet stores, or research facilities) are covered, leaving hundreds of facilities who sell direct to the public "under the radar,"

The Animal Welfare Act again provides only the barest of minimum of protection for the animals,

There are only around 100 USDA inspectors to cover thousands of licensed facilities throughout the nation.
Existing laws, as they stand, just are NOT doing the job. We need a strong, fair, enforceable Pet Facilities Law that closes up the loopholes and protects both the animals and the pet owners who buy them.
The links in this section examine existing laws and any new legislation that is in the works.
"Never doubt that a small group of thoughtful, committed citizens can change the world. Indeed, it is the only thing that ever has."
— Margaret Mead
"The only way to defeat a strong united front is to become one yourself!"
Barbara J. Davis
---
---
© Copyright, 2008. The Wisconsin Puppy MIll Project
P.O. Box 926 * Sheboygan, WI 53082-0926 * info@NoWisconsinPuppyMills.com

Website design by Hook & Web Designs