---
Here are some "DOS" and "DON'TS" that the Wisconsin Puppy Mill Project would like you to consider when searching for a pet:
DON'T PURCHASE A PET ON A "WHIM!" Responsible people NEVER acquire pets on a whim. Research the pet you think you want to make sure the animal's needs match your home situation and life style. Are you ready to make a commitment to the animal for his or her LIFETIME? If not, please don't acquire a pet until you are fully ready to accept the responsibility of pet ownership.

DO RESEARCH THE BREEDS THAT INTEREST YOU. There are many resources available both on the internet and at your public library to help you learn about the traits, temperaments, and characteristics of various pure-bred dogs, such as the AKC Recognized Breeds Listing, UKC Breed Information section. and Dog Breed Classification for Pet Owners. Also note what genetic traits and colors are NOT desirable; beware of "breeders" offering "rare" colors. In some cases, color is linked to a genetic trait such as deafness (many all-white and some merle dogs, for example). A responsible breeder will tell you upfront any "faults" inherent in the puppy you are buying, and why that puppy isn't considered "show quality."

DO RESEARCH THE COSTS OF BUYING AND KEEPING A PET FOR HIS/HER LIFETIME. The totals, calculated by Karen Peak of Pet Peoples Place and on the ASPCA Pet Care and Nutrition Costs page may surprise you.

DO RESEARCH AND KNOW YOUR RESPONSIBILIBIES TO YOUR PET! A good checklist can be found on Canine Crusaders' Responsible Pet Ownership page.

DON'T BUY A PET AT A PET SHOP! Responsible breeders NEVER sell their dogs to pet shops for resale. Pet shop puppies are puppy mill puppies. They may have been taken from their mom too early and shipped hundreds of miles. The adult dogs left behind in the mills suffer. Don't support the misery. Pet shop animals often suffer from disease, genetic disorders and anti-social behavior. These problems are expensive and difficult to handle. It's simple…Don't buy a pet shop puppy.

Click here for lessons learned the hard way by others who bought a pet shop dog.

DON'T BUY A PET ON THE INTERNET, THROUGH A CLASSIFIED AD, OR AT A SWAP MEET, AUCTION, OR FLEA MARKET! Responsible breeders NEVER sell their animals on the Internet, at auctions, swap meets or flea markets. You are taking a huge risk by buying a pet at one of these places.

That is not to say that many responsible breeders don't have informational websites about themselves and their dogs, but they will not list puppies for sale with any type of commercial 'puppyfinder' site or in online classifieds.

DO CONSIDER ADOPTING A HOMELESS PET FROM A SHELTER OR RESCUE. Nearly 6 MILLION homeless animals are euthanized ("put to sleep" or "humanely put to death") in the United States every year! At this moment, thousands of wonderful dogs, cats, birds, small animals, and even reptiles are looking for their Forever Homes through rescues and shelters all over the country. There is a rescue for every recognized breed of dog and cat, as well as Macaw rescues, ferrett rescues, pot bellied pig rescues, horse rescues -- you name it. The only fault these animals have is, irresponsible former owners who abused, neglected, or just didn't want to be bothered with them.

Reputable pet adoption organizations stand behind their pets. If you have questions they will be there to help you. Humane care givers get to know their adoptable pets and can share information with you about their temperament, health and general needs. Shelters and rescue groups CARE about the PET and they CARE about YOU.

There are many resources for finding a shelter or rescue near you, including Pets 911, a coalition of many major national organizations, and PetFinder, sponsored by the ASPCA. If you are looking for a particular breed or species, just do a search through any search engine using the key words your breed and "rescue" -- for example, "great Dane rescue" or "Persian cat rescue." You will be astounded at how many choices you find.

DO YOUR HOMEWORK BEFORE PURCHASING A PET FROM A BREEDER. Many pets advertised for sale in newspapers and on the internet come from Puppy Mills or disreputable Back Yard Breeders (BYB). These people are in the "pet business" purely to make a profit. They do not care about the quality, health or behavior of the "product" they sell. They are only interested in making a profit from selling animals. The less they provide for the animals, the more money they make.

Before buying a pet from a classified ad seller, it is wise to call your local shelter, groomers, and/or vet and ask if they have any information about the breeder. These animal care professionals may be aware of the reputation of the breeder you are considering. Your local police or sheriff's department will also be able to tell you if complaints have been filed against the person.

Take a look at our Red Flags: Disreputable Breeders, Identifying a Quality Breeder, and Breeders With Pride: Responsible Breeders Speak Out pages to help you make an informed decision.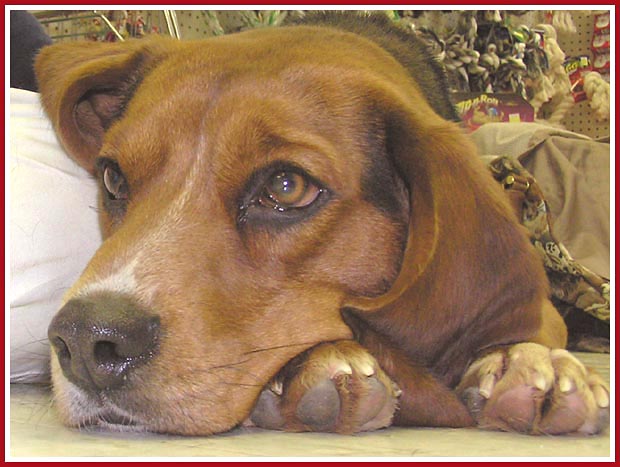 Andy is a wonderful, purebred beagle whose only fault was to have an uncaring former owner.
He found his Forever Home through a rescue, and if he could speak for himself,
he would urge you to share your life with a homeless pet like himself.

Finding Your New Best Friend

Guide to Finding a Pet

Red Flags: Disreputable Breeders


Identifying a Quality Breeder

Breeders With Pride: Responsible Breeders Speak Out

---
© Copyright, 2008. The Wisconsin Puppy MIll Project
PO Box 516 * Elkhart Lake, WI 53020 * info@NoWisconsinPuppyMills.com

Article Copyright © 2005, by Eilene Ribbens Rohde. All Rights Reserved. Used with permission.
Photos Copyright © 2005, by Pat Crean, Pictures By Pat. All Rights Reserved. Used with permission.
Website design by Hook & Web Designs