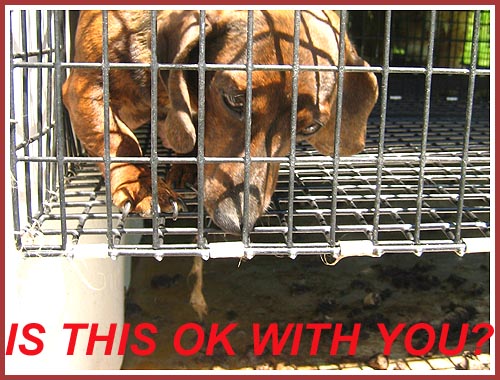 "The cages were approx 1.5 feet high and 2 feet deep and 2 feet wide. The cage floors were of approx. 1.5" x 1.5" coated wire. No solid surface for support -- just look at this poor Mama's splayed paws, and long, untrimmed nails curling around the wire. And can you imagine how uncomfortable it must be for her to lie down? The piles in the foreground are feces.
"The buildup of feces and urine were beyond comprehension.... the urine puddle beneath the Mama Doxie was cheese-like in consistency. The collection tray was full of mold...The foul odor and flies were beyond comprehension. I could not fathom this as being an acceptable, much less humane, way to raise man's best friend. It made me sick to hear her whimpering as she looked at me... like what did I do to deserve this?" (F. Menish, A Silver Lining Awakening)
BUT THAT'S OK, the "kennel" owner tells us. Her place is licensed by the USDA, and she complies with all of their miniimum standards..
IS THAT OK WITH YOU?
IT'S NOT OK WITH US!
Can one voice make a difference?
Most emphatically, YES! Especially when combined with many other "one voices." A Wisconsin legislator once told us, "When one person writes me about a particular topic, I read it. When ten people all write me about the same topic, I figure I need to listen to them and look into it!"
From time to time, we ask our supporters to take immediate action on something -- from attending a Round Table Discussion or helping us protest to sending an email to their state legislators.
Sometimes, there are several "Action" items occurring at once, and sometimes, there are none at all. The links at left will keep you up on what's going on, what we need you to do, and in many cases, what happened after the "Action" period expired.
"Never doubt that a small group of thoughtful, committed citizens can change the world. Indeed, it is the only thing that ever has."
— Margaret Mead
---
"The only way to defeat a strong united front is to become one yourself!"
Barbara J. Davis
---
---
© Copyright, 2008. The Wisconsin Puppy MIll Project
P.O. Box 926 * Sheboygan, WI 53082-0926 * info@NoWisconsinPuppyMills.com
Photo & commentary Copyright © 2009, F. Menish. All Rights Reserved. Used with permission.
Website design by Hook & Web Designs