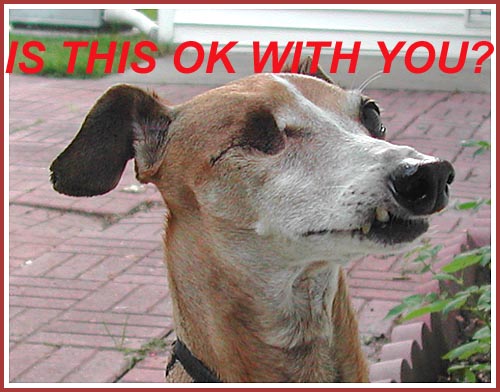 If you bought an Italian Greyhound at a petstore, this might have been his father. Teddy was a puppymill stud. He only had one eye, and his teeth were so infected that they had rotted away part of his jaw. When he was thrown away at age 6, he came to rescue wtih an untreated, badly broken leg.
BUT THAT'S OK, the breeder tells us with a wink; he more than got his money's worth out of a defective pup by putting him to work producing puppies himself. After all, you don't need two eyes, all your teeth, or four legs to make puppies.
IS THAT OK WITH YOU?
IT'S NOT OK WITH US!
So, what can you do to stop it?
Hopefully, this section of our website will give you some ideas, regardless of whether you're comfortable with direct action, such as participating in protests and having constructive dialogs with legislators, or prefer a more "behind the scenes" role, such as letter-writing, fund-raising, circulating petitions, or just changing your shopping habits.
Our Number One response to the question, What Can I Do? is -- Never, EVER buy a pet at a petstore! We even go one farther and ask that you not buy ANYTHING at a store which sells live animals, because chances are those kittens, birds, small mammals, and reptiles also come from a mill-type breeding facility. Over the years, we have expanded Rule Number One to include buying pets sight- unseen over the internet -- as regulation is increasing, many puppy millers are finding a lucrative business in direct internet sales
You'll notice that we've separated our What To Do links at the left into two categories. The first is for general suggestions --and there are a lot of them! -- that can apply just about anywhere. The second section contains materials and suggestions that are specific to our successful 12- year battle for a law regulating pet breeding and selling facilities in Wisconsin. (S.173.41, Wis. Stats., our Dog Breeders and Sellers Law, with its tough but enforceable Administrative Rules, went into effect in 2011, and the Wisconsin Department of Agriculture, Trade and Consumer Protection (DATCP) has been working tirelessly to inspect and license dog sellers, as well as conduct follow-up inspections and investigate complaints. As a result, standards of living for dogs in commercial facilities, while still not ideal, have improved tremendously -- or the facilities have been denied licenses and are out of business!)
Regardless of where you are located, we invite you to browse through both sections. The information contained in the WI section is in addition to that found in the general section. Non-WI residents, you are welcome to take our materials and ideas -- including texts of both the final law and its administrative rules) and modify for your own areas.
We frequently hear from people expressing their outrage and telling us that "Somebody should do something!" We ask that YOU be a "Somebody."
YOU have the power to make the puppymills and backyard breeders give these dogs better care....stand up and be a voice for dogs ... who do not have a voice!
Sara G.
---
---
© Copyright, 2008. The Wisconsin Puppy MIll Project
P.O. Box 926 * Sheboygan, WI 53082-0926 * info@NoWisconsinPuppyMills.com

Photo © Copyright, 2007, Carol Sumbry; Midwest Italian Greyhound Rescue. Used by Permission.
Website design by Hook & Web Designs