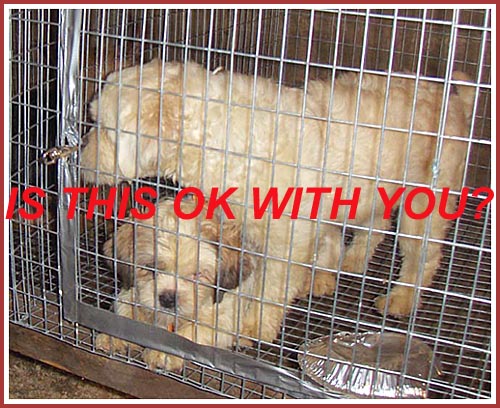 Nervous dogs from a "kennel liquidation" sit in wire cages, waiting for their turn to be be sold at auction. They haven't known anything but such cages their entire lives, and likely never will. They will never have a chance to run in the grass or play or enjoy the company of the humans their puppies are being produced to please.
BUT THAT'S OK, says the former largest breeder in Wisconsin (now retired), because dogs don't miss what they don 't know. "These dogs all have their little dog family, their pack, in that pen. . .That 's all they know and they like it there. Dogs, if they 're always raised with dogs, they don 't want to fool with people. These dogs enjoy their life the way it is."
IS THAT OK WITH YOU?
IT'S NOT OK WITH US!
A Puppy/Pet Mill Is (short version):
Legal definition from a 1984 Minnesota court case, courtesy of Wikipedia's puppy mill page, Avenson v. Zegart, 577 F. Supp. 958, 960 (United States District Court, D. Minnesota, Sixth Division January 17, 1984) A "puppy mill" is a dog breeding operation in which the health of the dogs is disregarded in order to maintain a low overhead and maximize profits. (Please also see: Wikipedia: Puppy Mills)
Webster's New Millennium™ Dictionary of English, Preview Edition (v 0.9.7). Retrieved April 05, 2009, from Dictionary.com website: "Puppy Farm: a place where puppies are bred for profit. Also called a puppy mill."
Merriam Webster's Online Dictonary: " puppy mill: Function: noun Date: 1973: a commercial farming operation in which purebred dogs are raised in large numbers."
Anyplace that animals are kept in cramped cages or pens like chickens, and/or forced to endure physical abuse in many forms, poor food and not enough of it, filthy conditions, constant breeding, little attention — conditions that, as the old saying goes, "you wouldn't keep a dog in" — so that their owner can make more money from them, is a MILL.
Doesn't make any difference whether there is one breeding female or 1,000; whether the animals are dogs, or cats, birds, hamsters, lizards, or guinea pigs; if their sole purpose is to make money for their owners and their treatment isn't up to even the barest standards of common-sense decency, it's a MILL.
All of the pages in this section of our website are dedicated to answering your questions about What Is A Puppy/Pet Mill, and what they mean to you. Please visit the links at the left. And if you want to know what YOU can do about puppy mills, click here!
NOTE: In 2009, the Wisconsin State Legislature unanimously passed Act 90, a law regulating dog breeders and sellers in our state. Since Act 90/s.173.41, the WI Dog Seller Program went into effect in June 2011, MANY breeders and sellers have been regulated and have either given up the business OR have come into compliance under ACT 90. If you have personally encountered any problems with any Wisconsin dog seller) please see our How To File a Complaint With the WI Department of Agriculture, Trade, and Consumer Protection page.
I am sometimes asked, "Why do you spend so much of your time and money talking about kindness to animals when there is so much cruelty to men?"
I answer: "I am working at the roots."
— George T. Angell
---
---
Page © Copyright, 2008. The Wisconsin Puppy MIll Project
P.O. Box 926 * Sheboygan, WI 53082-0926 * info@NoWisconsinPuppyMills.com

Photo © Copyright, 2007, Clark County Humane Society. Used by permission
Website design by Hook & Web Designs