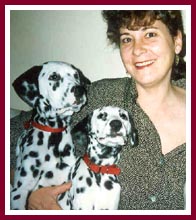 When Eilene Ribbens purchased a pet store Dalmatian puppy "out of pity" in 1998, she had no idea that their relationship would completely change her life -- and also help thousands of other dogs in Wisconsin.
At that time, Ribbens knew very little about puppy mill dogs. She simply felt compelled to rescue Mr. Peabody, a sad little pup living in a glass box in a local mall. However, as soon as she took the pup home, she realized that he came with some major problems along with the AKC purebred "papers" the pet shop provided.
Peabody had significant health and behavioral challenges. When Ribbens took the dog for veterinary care and behavioral training, she discovered that "papers" do not guarantee a healthy puppy nor do they insure the proper care of the adult dogs that produced the puppy.
Most of Mr. Peabody's issues were permanent and could not be fixed.   Ribbens was certain that laws had been violated. She wanted justice for herself and her dog so she contacted Dr. Yvonne Bellay, the State Humane Agent and Veterinarian with the Wisconsin Department of Agriculture, Trade and Consumer Protection (DATCP).
To her shock, Dr. Bellay said, "You're in a bad situation. I get these calls every week. Wisconsin does not regulate dog sellers or breeders. No laws exist so no laws have been violated. Besides our very basic animal cruelty statute, there is nothing in the current law to protect you or your dog."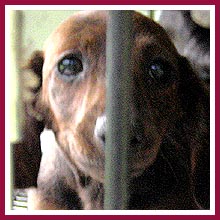 Dr. Bellay went on to explain that citizen action and a strong appeal to legislators were needed. She warned that such an effort could take ten years, perhaps longer. She said the process would require someone who was willing to take on the task and stick with it.
After much thoughtful consideration, Ribbens decided she was that someone. She would pursue citizen action for state legislation regulating dog breeders and sellers – and for a more humane Wisconsin. In 1999 she established the Wisconsin Puppy Mill Project (WPMP), a grass roots movement in its purest form. The organization was granted non-profit status in 2004 and quickly gained support from other advocates, pet owners, humane organizations, lawmakers, the media and quality hobby dog breeders.
The legislative process did take over ten years as Dr. Bellay had predicted, with many starts, stops, and bumps in the path along the way.
"There were times we all just felt like giving up," Ribbens said. "Everything was so extremely difficult and painfully slow. We endured many disappointments." She claims it was her Dutch and Norwegian upbringing that kept her leading the effort. "The Dutch are persistent and the Norwegians are stubborn," she says with a grin.
By 2007, dog auctions were established in Thorp, Wisconsin, and the practice of mass-producing dogs in substandard settings was exploding at an alarming rate. RIbbens saw the lack of regulation as a welcome mat for "bottom feeder breeders" to set up shabby operations in Wisconsin.
Ribbens dialed up her efforts. The media's enthusiastic response to her request to help expose the situation resulted in significant opportunities to educate the public and enlist lawmaker support. One of those lawmakers was Wisconsin State Representative Jeff Smith, whom WPMP organizers persuaded to attend a dog auction and visit a puppy mill.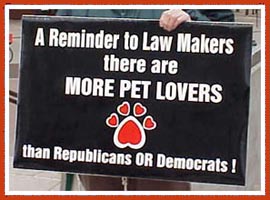 Representative Smith was appalled by what he saw. He authored legislation that passed unanimously in the Wisconsin Senate and Assembly. Act 90/s.173.41, the WI Dog Seller Program was signed into law. After an exhaustive Administrative Rules process to establish acceptable standards of care, the law went into effect. It regulates Wisconsin dog breeders and sellers including rescues, shelters, and animal control facilities, under a licensing and inspection program administered by the Department of Agriculture, Trade and Consumer Protection and managed by Dr. Bellay.
Has all this effort ended puppy mills in Wisconsin? While significant and dramatic improvement has taken place under the Act 90 licensing and inspection program -- including the closure of some of the state's most notorious "mills" -- the process is on-going, and the public's help is needed.
If you have reason to suspect that any unlicensed breeder is selling more than 25 dogs a year, or are concerned about the conditions in which a a breeder/ seller/ shelter/ stray hold facility is keeping dogs, PLEASE see our Filing a Complaint page for information on how to contact DATCP with your concerns! Remember that it is vitally important to provide investigators with as much detail and documentation as possible: dates, times, locations, contacts -- phone numbers, email, texts etc. -- and a "screen shot" if possible of ads on Craig's list or Facebook. All complaints will be investigated. With the public's help, DATCP has been able to help prosecute at least one notorious breeder who went "underground" to avoid upgrading her facilities in compliance with the Dog Breeders and Sellers Law.
"The things I know and see sometimes keep me up at night," Ribbens says. "The struggle to get the 'puppy mill bill' passed now seems easy compared to the on-going responsibility to educate and clean up the mess that was years in the making."
"Wisconsin is a big state with many rural and hidden places. Puppy mill style operations and other egregious forms of animal abuse and neglect still exist and must be rooted out, reported and remediated through determined actions and meaningful legislation. There are so many humane issues that demand our time and resources," Ribbens added.
To that end the Wisconsin Puppy Mill Project maintains an extensive website, both for educational and advocacy purposes. "Networking is critical," said Ribbens, "and we no longer limit our efforts to dogs." In addition to helping ferret out "underground" and other abusive pet dealers, the Wisconsin Puppy Mill Project also supports animal shelter veterinary services, spay and neuter programs, and assistance to animals in need.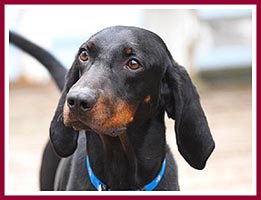 Currently the organization is campaigning for regulation of exotic species as pets, safer public lands for people and animals, protection of wild species, and promoting humane standards for the use of hunting hounds. Ribbens also advises other advocates on local, state, and national humane issues.
Does she oppose all dog breeding? "No," says Ribbens, "Humane societies, animal shelters and rescue groups offer wonderful pets and phenomenal services, and I will always encourage adoption and rescue as the primary source for acquiring a pet. However, people should have the choice of including an adorable, well-bred, happy, healthy puppy in their lives. There are many quality, caring hobby breeders in Wisconsin who truly care about the dogs they create. They raise them in home settings, place them carefully, and form a relationship with the people who take them home."
Happy, healthy pets in good homes and a more humane culture -- that is what the Wisconsin Puppy Mill Project is all about.