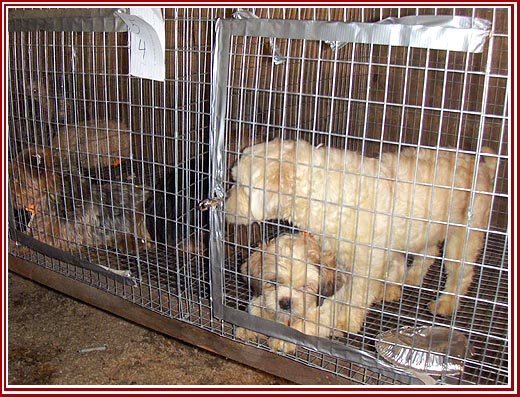 Dogs awaiting the auction block, Horst Stables, Thorp, Wisconsin, in June 2007.
Dog auctions are one of the "dirty little secrets" of the puppy mill industry. As with any other auction, sellers bring "merchandise" they no longer have any use for, and buyers come looking for bargains. Only, the merchandise is dogs, and the ending is seldom happy.
For instance -- remember our nemisis, Gerald Schulz (Interview with a WI "Puppy Farmer")? Mr. Schulz declined to upgrade his facilities to comply with Act 90/s.173.41 - WI Dog Program, so was denied a permanent license. Hooray, Gerald Schulz was out of the commercial dog breeding business (though he did reportedly keep a couple of dogs to continue selling the 24 pups per year allowed hobby breeders)! However, Mr. Schulz had the "last laugh" on the rescuers who hoped that he would "retire" his breeding stock and turn the dogs over to them. He "liquidated his stock" at an out-of-state auction, probably to other puppy millers, to squeeze the last bit of profit he could out of the poor animals.
There is so much to say on this topic -- descriptions of the auctions themselves, the condition of the dogs being bought and sold, the festival atmosphere on the auction floor that does not extend to the misery and fear in the animal holding pens, the pros and cons of rescues buying dogs at the auctions -- that we aren't even going to begin to cover it all. In the column at the left, you'll find links to several good descriptions of dog auctions, including an undercover video produced by the HSUS, and a search with any internet search will find you loads more.
What we are going to concentrate on in this section is, the series of dog auctions at Horst Stables in Thorp, Wisconsin -- and how these auctions ultimately helped lead to the ground-breaking dog seller legislation that was passed unanimously by BOTH houses of the WI State Legislature and signed into law in December 2009.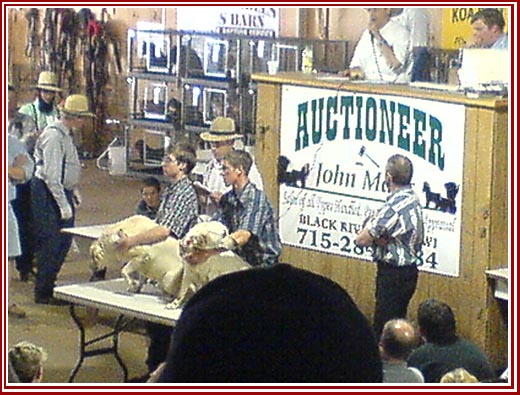 NOTE: In 2009, the Wisconsin State Legislature unanimously passed Act 90, a law regulating dog breeders and sellers in our state. Since Act 90/s.173.41, the WI Dog Seller Program went into effect in June 2011, MANY breeders and sellers have been regulated and have either given up the business OR have come into compliance under ACT 90. If you have personally encountered any problems with any Wisconsin dog seller, please see our How To File a Complaint With the WI Department of Agriculture, Trade, and Consumer Protection page.
I am sometimes asked, "Why do you spend so much of your time and money talking about kindness to animals when there is so much cruelty to men?"
I answer: "I am working at the roots."
— George T. Angell
---
---
Page © Copyright, 2017. The Wisconsin Puppy MIll Project
P.O. Box 926 * Sheboygan, WI 53082-0926 * info@NoWisconsinPuppyMills.com

Thorp Dog Auction Photos © Copyright, 2007, Chuck Wegman. Used by permission
Website design by Hook & Web Designs