Rascal the red BostonTerrier enjoys bright summer days, ice cream and dog bone treats, and long walks in the park. Here he is at a Mutt March fund-raiser, posing for photos and showing off his new bandanna.
Rascal originally was rescued from a dumpster at a puppy mill auction in Missouri.
Yes, that's right, this little pup was thrown away with the concession stand trash! Apparently, he didn't sell that day and his liver coloring, which would disqualify him for show by AKC breed standards, made him "useless" for breeding.
Says Denise, Rascal's Mom: "We adopted him at 4 months old. He was afraid to ride in the car, afraid of people and afraid of just about anything that said boo in the night. I am proud to say he is more confident and willing to meet people."
She also tells us, "If no one has every fostered a puppy mill dog, they really should. It is an experience beyond words."
As for Rascal--he has found a wonderful Forever Home with Denise, walks proudly through crowds, "mentors" new fosters in the household — and garners compliments wherever he goes because of his gorgeous coloring!
UPDATE: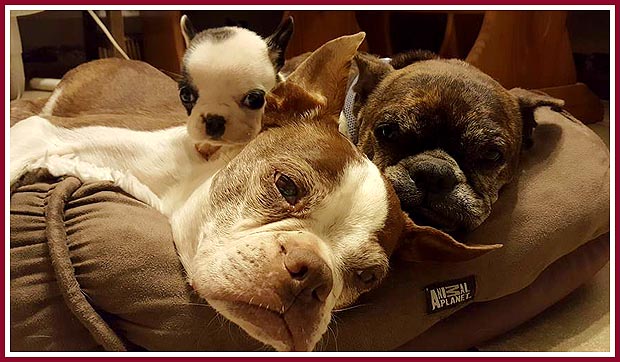 Denise, Rascal's Mom, recently sent us these photos of Rascal and his friends Carmella and little Leo. Rascal is now 14 years old and still "mentoring" new fosters (most of whom are "worn out" puppy mill breeders like Carmella and other commercial breeder surrenders). Rascal has taken a special interest in Leo, a pup with serious problems due to hydroencephaly ("water on the brain"). Leo would have been euthanized if Denise hadn't taken him. He is a puppy, though; loves to romp and play and explore and in general BE. Rascal does an excellent job "babysitting," keeping him safe and warm, and letting him know he is loved.
In 2009, the Wisconsin State Legislature unanimously passed Act 90, a law regulating dog breeders and sellers in our state. Since Act 90/s.173.41, the WI Dog Seller Program went into effect in June 2011, most breeders and sellers in Wisconsin have been regulated and have either given up the business OR have come into compliance under ACT 90. However, puppy mills are still going strong in other states, and many Wisconsin pet stores buy puppies for resale from these unregulated out-of-state commercial breeding facilities. Rascal, Carmella, and Leo want to remind you once again, "PLEASE -- NEVER BUY A PUPPY FROM A PETSTORE!"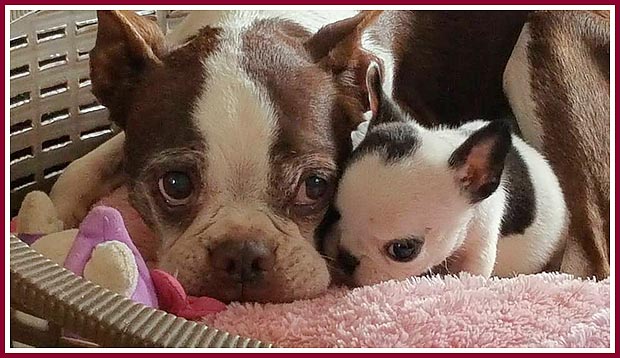 Rascal, 2002 - 2017.
Good Dog, Rascal. Good Dog.

Exactly what does AKC/ UKC/ breed registration really mean?


WPMP Undercover at the Thorp Dog Auction

Thorp Dog Auction Protest


An Eyewitness Account of a Puppy Mill Auction

Upfront View of a Puppy Mill Auction