This happy-looking gal is Indy, a very friendly, playful, and sweet Dalmatian. Indy is a much-loved member of her family, and should have been able to look forward to a long, healthy, happy, mostly pain-free life with them.
You see, Indy's People knew that they would love any dog who came into their home, so they tried to be very, very selective when they brought home their first puppy.
"Jen" and "Steven" searched and searched, and found a breeder whose puppies were all "AKC registered," and who sold the pups with a money-back guarantee. When the young couple first picked her out from all the other puppies at the breeder, it was love at first sight for both the Humans and the Puppy. Steve handed over the $750 the breeder asked, confident that the "papers" and the guarantee would mean Indy would be healthy.
They were wrong. Shortly after bringing Indy home, they started noticing problems. For one thing, she wasn't as attentive as she should have been. For another, her back legs seemed to splay when she walked, giving her a "rocking horse" gait.
A visit to the vet confirmed that Indy was unilaterally deaf (deaf in one ear) and that she already was showing signs of severe dysplasia in both of her hips. These problems were hereditary, the vet explained, common signs of poor breeding in Dalmatians. The hearing deficit could be worked around, but the hips would continue to deteriorate, and expensive surgery would be needed in the not-too-distant future.
Understandably upset by this news, Jen called the breeder to let him know about the pup's problems.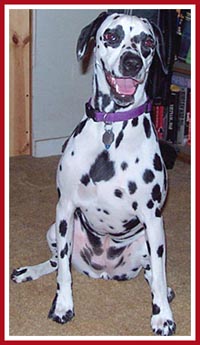 The breeder laughed at her. He'd known that Indy was deaf in one ear, and also that she had hip problems, and sold her to them as a healthy pup anyway.
"But you had a guarantee!" Jen protested.
The breeder said, "Yes, and if you bring her back, I'll give you another puppy or your money back."
Jen was close to tears as she asked what would happen to Indy if they did return her.
"We'll euthanize her, of course," was the reply. "She isn't good for anything else."
There wasn't even any discussion; Indy was a member of the family for better or worse, and there was no way they'd take her back to be killed. When Jen said as much, the breeder laughed again.
"I could tell that you were already in love with her when you picked her out," he said derisively. "I knew when I sold her to you that you wouldn't return her."
He as much as admitted that he had taken advantage of them to get rid of a pup nobody else would buy, and there was nothing they could do about it. Unfortunately, Jen and Steven also refused to give us the breeder's name or at least file a complaint against him with the AKC.

Exactly what does AKC, UKC, or breed registration really mean?