In Depth: The Thyme and Sage Ranch
Reports of gruesome sights, smells at 'rescue' ranch
(Story by Dawn Kiefer, courtesy of The Richland Observer, Editor Ryan Billingham (observereditor@mwt.net)
Note: graphic details in this report may be disturbing to some readers.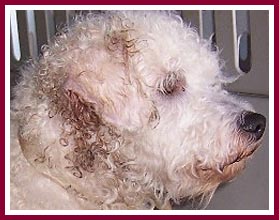 When customers of Thyme and Sage Ranch begin telling their personal stories a recurring scenario presents itself: the customer buys a dog, usually a puppy, and it dies within a few days or becomes severely ill and the customer spends hundreds, even thousands, of dollars in an often vain effort to save it.
Many customers claim Thyme Sage and Ranch owner Jennifer Petkus told them that it was they who were at fault and even blamed the animal's poor health or death on the customer's own veterinarian.
Several say Petkus told them they were the first customers to make such complaints against her. Some took dogs back to Petkus, but say they were refused a refund.
An Internet search will bring up several sites on which people lodge complaints about Petkus and Thyme and Sage Ranch and, while there are some postings that praise the operation, at least one woman who claims to have bought a dog from Petkus that promptly died is not persuaded by any positive postings.
Penny Evans, of Rockford, Ill., is a disabled former police officer who discovered Thyme and Sage Ranch on the Petfinder.com Web site.
She says she bought a small puppy from Petkus a year ago and it died within a week
Evans describes herself as Thyme and Sage's "loudest victim." She has been relentless in efforts to bring Petkus's operation to the attention of the courts and, she says, that efforts by herself and others like her have led to Thyme and Sage Ranch being banned from listing animals on Petfinder.com.
Evans is skeptical about the positive reviews online and stated that no identification is necessary to post on the sites she's viewed.
She is urging anyone who may have purchased a dog from Thyme and Sage Ranch to participate in a legal case she is currently developing.
Several disgruntled customers have come forth to speak about their experiences with Petkus and Thyme and Sage Ranch.
Petkus herself was contacted by phone message, which was not returned, and when asked in person to comment on the allegations of Thyme and Sage customers at the Richland County Courthouse she declined to comment.
However, those who feel victimized by Petkus's business practices are commenting.
Similar sad stories
Judy Martinson of Mt. Horeb and a friend went to Thyme and Sage Ranch in November 2008 and each left with a puppy. Martinson says her friend paid $275 for her dog, a nine-week-old Chihuahua, which died of Parvo Virus just days later- after the friend had spent $800 trying to save it. Martinson says her friend did get the adoption fee back.
Martinson chose a six-month-old poodle that cost $175 and it, too, became ill within a few days. Martinson says the efforts of her veterinarian saved the dog's life, for a total cost of $2,050.
She also says her vet asked if the dog came from Thyme and Sage Ranch, stating that three or four sick dogs had come to that clinic in the few days prior to Martinson's visit.
Joan (Buddy) Borland of Hub City says she bought a year-old beagle in April at Thyme and Sage Ranch. When she was there, she went inside a house on the property, which she says was filled with dogs.
"The house smelled so bad. It was a filthy mess up there," she says.
Borland says that, while she was in the house, another prospective dog buyer-a man-came into the house and immediately went outside and vomited.
Borland says she paid $60 for the dog even though it smelled so bad that she had to thoroughly clean her car after transporting it. Over the next three days the dog "threw up something terrible and made bowel movements that were very oily and smelly," she says.
Borland called her veterinarian and he asked if the dog came from Thyme and Sage Ranch. She says he advised her to return the dog because he suspected it had Parvo Virus and said it could cost her thousands of dollars to attempt to save it. Borland says she called Petkus, who picked up the dog but wouldn't provide a refund.
Karin Gunderson, whose parents live in Richland County, purchased a seven-week-old beagle/Boston terrier mix for $150 at Thyme and Sage Ranch in February. A couple of weeks later the dog had a mysterious ailment, which resulted in it being unable to walk on its back legs.
Gunderson says the dog survived after being treated with antibiotics, but she was concerned about the cost. As a longtime customer of the veterinarian she was given a break.
"I'm very grateful the vet helped us through it," she says.
After Petkus purchased a horse from the daughter of Robin DeFabbio of rural Richland Center, DeFabbio and her daughter decided to volunteer at Thyme and Sage Ranch.
"Probably during my first hour there I realized things weren't what they should be," DeFabbio says.
DeFabbio and her daughter stayed on for three-and-a-half months- from August through November of 2007. She says they mainly worked in a large shed that, at that time, held 50 to 60 dogs. Alongside the shed was an enclosure that held additional dogs.
On their first day at the ranch DeFabbio says they used pitchforks and a scraper to remove straw that was weighted down with urine and feces. She says there were "layers and layers" of straw, which led down to a final layer of writhing maggots.
For the remainder of the time they volunteered there, the two went once a week to replace soiled straw.
DeFabbio says that she would tell Petkus about problems, including a dog that was obviously being attacked by another dog.
"She wouldn't listen and take advice from people who wanted to help," DeFabbio says.
In November she'd arrive to find the water dishes frozen over and the hose frozen, too. She says she'd find dead rats in water pails and would see short-haired dogs outside freezing.
"The battle became huge," DeFabbio says. "We went in with intentions to help animals, but we felt like we were enabling her (Petkus) and not making a difference."
Still, DeFabbio was sad to stop going there.
"We got very attached to the dogs. They were so excited to see us," DeFabbio says.
Phyllis Pauls, who runs the spay/neuter clinic for Ocooch Mountain Humane Society, says that, until the end of last year, she was in charge of the telephone contacts to OMHS. Over the previous two years, she received a steady stream of calls with complaints about Thyme and Sage Ranch. She says that near the end of December every call she got indicated the dog died. Prior to that, she says, "If puppies didn't die they were extremely ill and the owner spent hundreds to thousands of dollars to get the puppies well."
Pauls says callers told her that, when they contacted Thyme and Sage Ranch to complain about their sick or dead dogs, Petkus told them they didn't know what they were doing nor did their veterinarians.
In all cases, Pauls referred the callers to the Richland County Sheriff's Department.
An area vet tech says that she and others employed at an area vet clinic started monitoring Thyme and Sage Ranch listings on Petfinder.com during 2008 because they were alarmed at the number of dogs listed by that establishment.
The vet tech says Thyme and Sage Ranch was barred from listing animals, but then Petfinder.com listings were placed under the heading "Richland County Animal Control."
Around the same time, the vet tech says her vet clinic started seeing animals in bad shape, which the owners said were purchased from Thyme and Sage Ranch. "It got to where we were seeing one to three extremely sick puppies per week," she says.
Polly Cisco, who owns Under One Woof of Richland Center, says people have called her, to tell her about dogs from Thyme and Sage that were very sick or had died. Cisco says the people told her Petkus stated to each of them: "You're the only one who ever complained."
Subsequently, Cisco says, she advised people to not go there and claims Petkus called her, threatened to sue her for slander and ordered her to never step foot on her property.
The property consists of 116.35 acres, according to the Richland County Real Property Lister, who states that Petkus initially purchased 36.35 acres in June 2001 from John Whalen. In March of 2007, she purchased 40 acres from Karen Arvold and, in April 2008, she purchased 40 acres from Freeman Decorah.
Gruesome scene
John Whalen says that, before she purchased the land from him, Petkus lived in California. He says her parents, Jim and Mary Petkus, who at that time resided near Antioch, Ill., saw his property listed online and came to see it several times. After initial telephone contact, Jennifer Petkus came to see the property, purchased it and moved here, he says.
Whalen says Petkus brought a number of dogs, cats and horses with her from California.
"There has been an ongoing issue with dead animals around," he says.
Whalen, who still owns adjoining land, says a couple of years ago around Memorial Day there were four dead horses stacked like cordwood about 15 feet from a shed on adjoining land. Near the horses was a flat trailer loaded with dozens of small dead animals, including dogs, cats, goats and sheep. He says that the carcasses were in place for about a week and that the stench was so bad he couldn't bring himself to enter the shed across the fence.
Whalen says he complained to her about it. He told her, "You don't show much respect for your neighbors to have all these dead animals here." Her response was to laugh it off, he says.
Whalen also states that, in the eight years Petkus has owned the land, a manure pile has grown to 30' by 60' and that there are, or were, dead animals in it.
He says the stench is so horrible he has to close his vehicle windows and turn off the air conditioning when he drives by. When officials raided the ranch on May 19 he watched as investigators were digging through the manure pile, with a pile of bones on the ground nearby.
Bob Novak, a neighbor who lives across the road from the ranch, says he has lived with noise in recent years. Before the raid and subsequent impounding of over 300 dogs, he said it was impossible to sit on the porch or sleep with the windows open because of the constant barking. The metal shed many of the dogs were held in amplified the noise, he says.
Chuck Keller of the Westford Town Board says the board has received complaints over the years, which were referred to the Richland County Sheriff's Department. The complaints were about the number of animals, animal disposal, and noise.
Jordan Crump, public relations officer for the Humane Society of the United States (HSUS), who was present during the May 19 raid on Thyme and Sage Ranch, says that, of the various animals found on site,"the dogs were in the worst shape of the bunch."
She says about six were on the brink of death that day and, if others had been left there, the number would have grown.
Ten or so miniature horses were impounded due to hoof problems and worm infestation and were taken to Pinto Palace rescue in Cottage Grove. However, the standard horses on site were generally in better condition than some of the other animals at the ranch, she says.
About 20 rabbits were confiscated, as were some ferrets, chinchillas, and a few exotic birds that were distressed and pulling out their own feathers.
The dogs were taken to the Dane County Humane Society and the ill ones were quarantined in special tents. Crump says tests are being conducted to determine the extent of their diseases, which may include Parvo Virus.
Crump rates conditions at Thyme and Sage Ranch at about seven on a scale of one to ten.
"It's definitely a major case," she says.
The Richland Observer will continue its coverage as events unfold and welcomes calls or e-mails with information about Thyme and Sage Ranch or its owner, Jennifer Petkus.
Persons interested in Penny Evans' efforts should contact her at thymeandsagesuit@gmail.com.