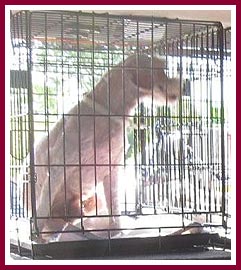 Anyone who questions why shelters/rescues are being included for licensing and regulation in 2009 Wisconsin Act 90 should have been with the Richland County Sheriff's Department and investigators from over half a dozen state and national humane organizations as they executed a search warrant for Thyme and Sage Ranch, an animal shelter located in Cazenovia, WI, on May 19. 2009. Jennifer Petkus, the operator of Thyme and Sage Ranch, considers her facility a rescue sanctuary, and reportedly has also been accepting $750 per month payment as the county Animal Control officer since spring 2007.
For years, the Sheriff's Dept. and local animal shelters had received complaints about conditions at Thyme and Sage Ranch and about the health of animals purchased from the rescue. Recently, local vets were becoming increasingly alarmed at the rising number of sick and dying puppies brought to them for treatment by clients who had "adopted" the pups from Thyme and Sage.
Due to complaints to PetFinder, Thyme and Sage was barred from listing with that website (though Ms. Petkus later relisted animals under "Richland County Animal Control"). In spite of all the complaints, due to Wisconsin's vague humane laws at the time, authorities could find no violations serious enough to allow them access to all of the Ranch's facilities.

In Depth: Personal Stories About Thyme and Sage Ranch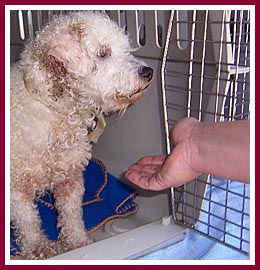 In the fall of 2008, Wisconsin Federated Humane Societies, of which Wisconsin Puppy Mill Project is a member, requested that the Humane Society of the United States (HSUS) look into Thyme and Sage. That spring, when the HSUS took a hidden camera to the so-called rescue, they recorded very solid information about what was actually going on behind Thyme and Sage's tightly closed doors. A vet from Dane County Humane Society had previously visited Thyme and Sage on a frigid day in February armed with both a hidden camera and a temperature probe. Her videos of frozen water bowls and shivering dogs, along with proof of the frigid conditions the animals were living in, contributed vital evidence in obtaining the search warrant.
Deputies serving the warrant were accompanied by representatives from Dane County Humane Society (DCHA), Wisconsin Federated Humane Societies (WFHS), Humane Society of the United States (HSUS), American Society for the Prevention of Cruelty to Animals (ASPCA), American Humane Association (AHA), United Animal Nations (UAN), and the Hooved Animal Rescue and Protection Society (HARPS).
Thyme and Sage's website stated, "The mission of Thyme and Sage Ranch, Inc. is to provide re-homing or rehabilitation and a high quality of life for the remaining years of the animals entrusted to its care."
What investigators found, however, were animals housed in deplorable conditions with little or no food or water. Some had open wounds. Most were suffering from neglect -- rotten teeth, ear and eye infections, mange, malnutrition, fur so matted with filth and feces that it had to be shaved, and various internal infections. Many of the dogs were pregnant, leading shelter workers to wonder if Ms. Petkus were intentionally breeding puppies for sale.
All in all, according to a May 29, 2009 report by the ASPCA, investigators seized "315 dogs, 23 horses, 21 rabbits, 14 birds, two chinchillas, one cat, one ferret and one rooster." Several dead animals were also discovered on the premises. See the RIchland Observer's In Depth: Thyme and Sage Ranch for more details. (Caution: graphic descriptions may be upsetting to some readers.)
Dane County Humane Society in Madison shouldered the responsibility for the dogs and small animals as the initial court documents were filed (the horses were housed elsewhere). Workers set up emergency tents outside the DCHS shelter to accomodate the animals confiscated from Thyme and Sage; Wisconsin Federated Humane Societies worked in advance of the warrant being served to make sure that volunteer vets and vet techs would be on hand to assist with medical evaluations, vaccinations, and treatment as the animals were brought in.
Lon Stetler, founding member of the all-volunteer Badger Animal Rescue Transportation Services (BRATS), said, "I served in Viet Nam in 1968. The scene when I arrived at Dane County Humane Society reminded me of a military MASH unit. Everybody had a job to do and they were all doing it...and well."
Tawana Hanamann, a staff member at Fox Valley Humane Association in Appleton volunteered for three days on the site. She said, "I never saw so many rotten teeth, eye and ear infections and matted coats in all my life. The condition of some of these dogs was absolutely appalling. It's just criminal to allow animals to get to this point."
One of many state shelter employees and Veterinarians who arrived on the scene to help stated. "In my years of practice I've seen some pretty bad things, but I've never seen so many dogs in one place in such bad shape. Many of them were really suffering."
On May 20, 2009, Jennifer Petkus was charged with 16 misdemeanor counts, ranging from Mistreating Animals to "Unlawful Deposit of Animal Carcass." You can read the entire Criminal Complaint here (pdf). (Caution: graphic descriptions of animal abuse may be disturbing to some readers.)

Criminal Complaint against Jennifer Petkus (pdf)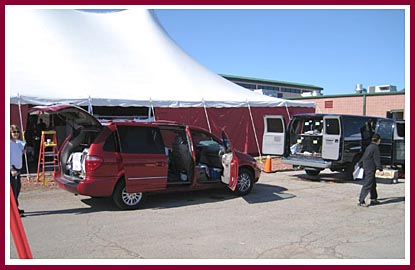 However. it wasn't until Friday, May 29, 2009, that the court convinced Ms. Petkus to sign over approximately 200 dogs to the Dane County Humane Society. That weekend, Operation Freedom 200, Wisconsin Federated Humane Society's plan to transport the dogs from their temporary quarters at DCHS to animal shelters throughout Wisconsin for rehabilitation and eventual adoption, was put into action.
Volunteer transport drivers took dogs to fourteen pre-arranged shelters: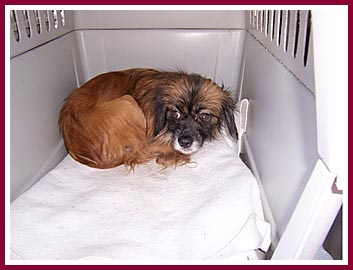 From these shelters, the animals were made available for adoption.
Meanwhile, over 70 dogs still remained at Dane County Humane Society, some held as part of the on-going case against Ms. Petkus. DCHS was very grateful for urgently- needed donations from the public as they dealt with the needs of the confiscated animals throughout the criminal investigation that will follow.
Register a complaint: The public was given the opportunity to register a complaint if they had adopted / bought a sick or injured animal from Thyme & Sage Ranch.